MythWatch - MythTV Remote Control for Android Wear Smartwatches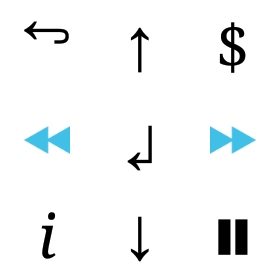 What is it?
MythWatch is an Android Wear smartwatch app that provides a basic remote control for a MythFrontEnd. You'll need an Android Wear smartwatch. It currently only provides 9 fixed buttons. It uses the http based Service api. Unlike other remote controls it sends commands rather then keys, so its commands can't be configured with the key bindings. It complements other, more complete remote controls, like mythmote.
Here is the layout of the commands:
| | | |
| --- | --- | --- |
| Escape | Up | Commercial Skip |
| Seek Back | Enter | Seek Forward |
| Information | Down | Pause |
Setup
To install on a Android device you have to allow installation of apps from Unknown Sources in the Security settings. (Developer mode or rooting is not required.)
You must have enabled the Network Remote Control Interface in the MythFrontEnd General settings and then open the MythWatch app on your phone as set the IP address or hostname of your MythFrontEnd.
Because it uses the Services API the port address must be one higher then the Network Remote Control port in the MythFrontEnd settings. If you don't change the port on the MythFrontEnd settings, you don't have to change it in the MythWatch settings.
Development
This was written, complied and debugged on an LG G3 smartphone using AIDE and DroidEdit with an LG G Smartwatch.
This was orginally called MythWear, but shortly after I first made it available I discovered there was a MythTV Android Wear remote control in the Play Store already and it was also called MythWear. So I changed the name to MythWatch, although the underlying name is still net.homeip.doconnor.mythwear.
Future
There are more features I could add, like updating the buttons based on what the MythFrontEnd is doing, displaying the name and location of the currently playing file, allowing customization of the layout or lowering the Escape button label. However, I may not do too much more on this, since I don't use MythTV that much anymore and I want to work on my TransSee rewrite. This was mostly a test to familiarize myself with Android and Android Wear programming. I do plan on submitting it to the Google Play Store.
Download
---
Darwin O'Connor
doconno@gmail.com